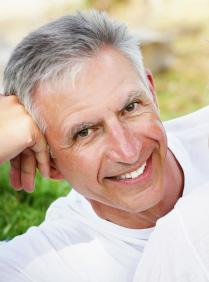 Dentures
If you're missing teeth, you're not alone! Tooth loss is a widespread problem that can be caused by injury, dental decay, or gum disease. Fortunately, with the help of our restorative dentistry practices, your smile can be restored.
Naturally, most patients want to discover a great tooth replacement method. They want to have the confidence that comes with a beautiful and complete smile. If you're missing teeth, dentures are an inexpensive and highly functional replacement option.
Why Replace Missing Teeth?
Tooth loss can affect many aspects of your life. Dentures can help you avoid the following consequences:
Sunken face or an aged appearance
Shifting of remaining teeth and a crooked smile
Difficulty chewing and speaking normally
Risk of gum disease and infections
You deserve to be able to socialize and enjoy your favorite cuisine without having to worry about whether your teeth can handle it. Our custom-made dentures make that possible!
What Can I Expect With My Dentures?
We strive to create dentures that will make each day more comfortable and convenient for your daily activities. Here are some of the standout features of our dentures:
Seamless Fit | Because we create our dentures using accurate impressions, your dentures will be completely custom. They'll fit perfectly over your gums and will match the shape of your face.

Full Functionality | Dentures will restore the functionality of your teeth. You'll feel like you never lost your teeth! Everyday functions will be a lot easier. You will quickly adapt to your new dentures so that you can chew and speak without trouble again.

Beautiful Quality | You'll love the way your stunning white dentures look each time you smile. As long as you take proper care of your dentures, they will last for many years to come. Ask Dr. O'Brien how you can make your dentures last longer.
Natural Appearance | Our dentures are made from quality, natural-looking materials. You can smile with dignity with the knowledge that you look and feel great.

Convenient to Care For | Caring for your custom-fit dentures is simple. All you need to do is soak the dentures in denture cleaner and brush them with a toothbrush to maintain their appearance and functionality.
Short Treatment Timeline| There's no reason for you to wait months to fix your smile. In just a few weeks you can have your brand new set of dentures.
How Quick Is the Denture Procedure?
If you've been dealing with tooth loss, you probably want to get your oral health back on track as soon as possible. The good news is that our denture procedure doesn't take much time. In just a few appointments, you'll have your brand-new set of dentures. Here's what you can expect:
First Appointment | When you come in for your consultation we will ask you a few questions and assess the current state of your oral health. Dr. O'Brien will take impressions of your mouth. We will send these impressions to our lab. They will take them and create dentures that fit the shape and size of your smile.
Second Appointment | We will schedule a second appointment for you to receive your dentures a few weeks out. At this appointment, Dr. O'Brien will make sure that your dentures fit comfortably, and he will answer any questions you have. We will also review instructions on how to care for your dentures.
Take Back Your Oral Health With New Dentures
Dr. O'Brien takes pride in restoring his patients' confidence and well-being with natural-looking dentures. It's easier than you think to restore your smile. Give us a call today to schedule an appointment with Dr. O'Brien!