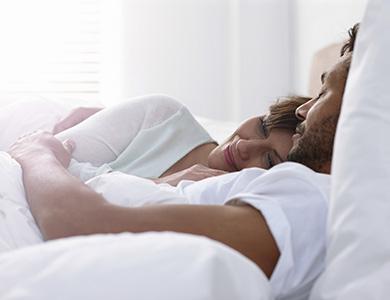 Sleep Apnea and Snoring
Dr. O'Brien and his team believe that you deserve to enjoy restful and relaxing sleeping hours and productive and energetic waking hours. Treating your sleep disorder can immensely improve the quality of your life. Sleep apnea patients can gain control of their sleep patterns by seeking treatment here at our practice.
Millions of Americans struggle with sleep apnea, a common sleeping disorder caused by a blocked airway during sleep. The blocked airway causes you to wake up constantly throughout the night, impacting your ability to get proper rest.
What Are Common Symptoms of Sleep Apnea?
It can be difficult to know if you have sleep apnea because you might not remember waking up in the middle of the night. We put together a list of symptoms to monitor if you suspect that you have sleep apnea. Some of the symptoms of sleep apnea include:
Snoring | Snoring can be embarrassing and frustrating for you and your loved ones. It can keep you and your housemates from getting the restful sleep that you all need. Snoring might be indicative of a blocked airway.
No Energy | It becomes difficult to learn, focus, and achieve goals throughout the day when you have less energy. Your performance at work and your enjoyment of your personal life may suffer due to sleep apnea.
Periods of Gasping or Breathlessness During Sleep | If your air passage is blocked, you might choke or stop breathing while sleeping. This brief interruption to your breathing can be dangerous.
Irritability | A common side-effect of no sleep is mood swings and irritability. If you've noticed a pattern of daytime grumpiness or drowsiness, get checked for sleep apnea.
It's important to share your concerns if you or a loved one has been experiencing these symptoms because they can be indicative of sleep apnea. Give our office a call to schedule an evaluation with Dr. O'Brien.
Risks of Untreated Sleep Apnea
Heart Problems: When you don't receive enough sleep, you are at a higher risk for conditions like heart disease and high blood pressure.
Accidents: Daytime drowsiness makes it difficult to operate a vehicle or machinery. The threat of accidents rises when you are not getting enough sleep.
Diabetes: Sleep apnea has been linked to type 2 diabetes. The two conditions feed off of each other if left untreated.
Sleep Apnea Treatment
There are several effective ways to treat sleep apnea, including a CPAP machine and oral appliances. A CPAP is a machine that is worn at night. It keeps your breathing normal and consistent. This treatment is often very successful, but it can also be bulky and uncomfortable. Our oral appliance offers a more comfortable solution.
How Does a Sleep Apnea Oral Appliance Work?
At our practice, we provide comfortable custom-made oral appliances that will help you recover from sleep apnea. These appliances will keep your lower jaw forward, ensuring that your airway does not become blocked throughout the night.
Your oral appliance is fitted for your mouth and should feel comfortable when you sleep, although it may take some time to adjust to wearing it.
Steps for Creating Your Oral Appliance
Before creating your oral appliance we need to determine if you have sleep apnea. Schedule an evaluation with Dr. O'Brien to get started.
When you come into our office, we will take impressions of your teeth and send them to our lab to design your oral appliance.
Once the device is ready, you'll come back to our office to have it fitted. Dr. O'Brien will check to make sure that the device is working properly.
We will schedule a return visit in a few weeks to see if the device needs to be adjusted.
Get a Proper Night's Sleep
Let's start conquering those dangerous sleep apnea symptoms. Give us a call right away to schedule an evaluation.